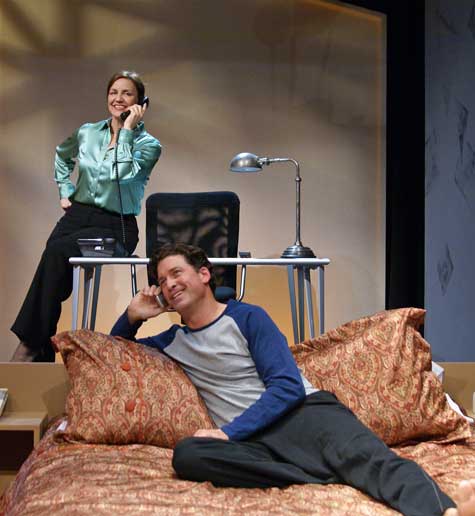 (Denise Poirier and Paul Drinan)
One of my favorite actors from L.A., Denise Poirier, relocated to Maine around the turn of the millennium, and she's been acting up a storm ever since. Her latest turn: as Diane, the acerbic agent in Douglas Carter Beane's
The Little Dog Laughed
at Portland's
Good Theatre
. As the Boston Phoenix
enthuses
: "Who but Poirier to portray the imperious, caustic, and wickedly glib Diane?"
I can only imagine how Diane's most infamous line (to
L.A. theater boosters
, anyway) rings in Denise's ears: "We don't have a problem with cell phones in the theatre in this town. We've simply stopped doing theatre altogether." That's why they call it acting, I guess.